Professional Water Damage Restoration Team In Sydney – Save Your Flooded Home!
If your home has been flooded, then we have solutions to restore that appropriately with professional assistance. Revive Water Damage Restoration Sydney is a top-rated water damage restoration Sydney service team. Our technicians are skilled enough to fix the damages caused by the flood. We manage flood water extraction, wet carpet drying, carpet damages and repair, and do furniture restoration work as well.
Moreover, our professionals can use advanced techniques and methods to extract flood water from the property. Also, they will repair all the damages caused by floods. We work for residential and commercial properties both. So if anyone needs water damage clean-up assistance, then our assistance can solve all problems.
You can contact us at (0488 851 508) to take excellent flood damage restoration & repair services. We promise you will get a prominent result ASAP.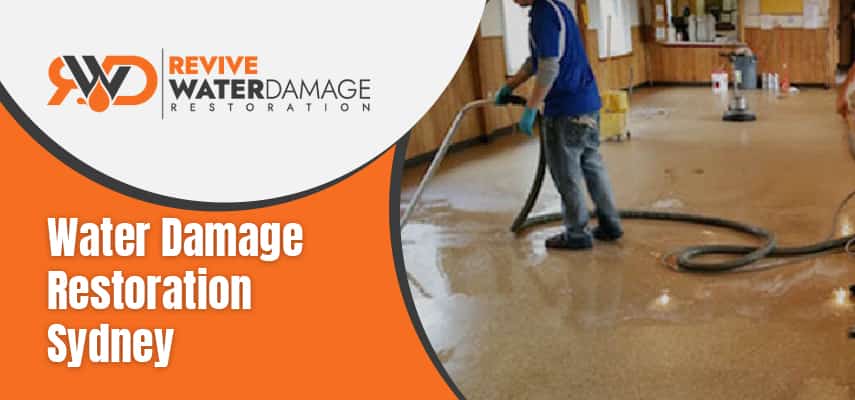 How Can Flood Damage Many Things?
Floods can cause many problems and damage many things. There are a number of people who do not understand how important it is to call professionals for water damage restoration services. We will tell you here how many things the flood will damage so that you will be able to understand the importance of a professional water damage restoration service.
Furniture Damage – The flood can damage furniture. This can especially ruin your wooden furniture and upholstered items.
Carpet Damage – The flood water will not only make the carpet dirty but also cause severe damage to it which needs to be repaired immediately.
Mould On Floor and Walls – Due to the accumulation of flood water, mould and mildew can grow on floors and walls.
Bad Odour – The flood water and damages will cause a foul odour.
Flooding Can Be Dangerous: Call Professional Water Damage Restoration Service With Trust
Water damage clean up, restoration, cleaning the floors and walls and repair to fix flood damage is very difficult. You do not need to bother with anything, because you can hire professionals who will get done with the things and tasks immediately with no hassle. We have experts who are trusted by people in Sydney and have undergone professional training to learn righteous floodwater damage restoration techniques. Hiring our professionals will save time and restore more things. We clean up the floors, remove moulds and mildew, repair carpets and manage the flooded property appropriately.
Different Water Damage Restoration Services We Provide In Sydney
When it comes to flood damage restoration services, no one can provide more helpful services than us in Sydney. We have been providing these water damage restoration services for years.
Wet Carpet Cleaning Sydney – The flood water will make the carpet wet and muddy. We have cleaners who will do the cleaning of such carpets with professional measures.
Wet Area Drying Sydney – Due to flood water, the carpets and all other things in your home will get wet. You can get the area drying service with the help of our experts.
Flood Water Extraction Sydney – We have advanced tools and equipment through which we extract flood water from the property.
Flooded Floor Clean Up Sydney – Flood water clean up from the floor is very hectic. Our experts know how to do flooded water floor clean-up without taking much time.
Carpet Damage Restoration – Carpet gets completely ruined and damaged due to flood water. Our experts do carpet damage restoration and save your carpets from all fallacies.
Carpet Deodorization & Sanitization – Flood water leaves a bad odour which can be resolved by our professionals through carpet deodorizing and sanitizing processes for keeping the area healthy.
Flood Damage Restoration Services – Our Experts Assist In All Conditions
Flood does not only harm the emotions of an individual but also damages everything available on the property. If a flood has caused different kinds of damages and severe problems on your property, then you can call us for water removal and other restoration services as well. We are the #1 water damage restoration team that helps to deal with every condition and problem caused by the flood. It does not matter how bad the condition of your home and things are, we are capable of handling every problem to restore all the damages.
Broken Pipes
Poor Drainage
Clogged Rain Gutters
Malfunctioning Appliances
Damaged Foundation
The Bad Weather
Why Our Water Damage Restoration Service In Sydney Is The Best Choice?
We have different reasons, which is going to state that our professional water damage restoration Sydney service is best choice:
Certified Flood Restoration Experts: All the team members working with us are certified under IICRC, which claims that we are experts in providing quality service.
Emergency Service Available: If you need flood damage restoration service in an emergency, then call us. We will be available at your doorstep ASAP.
Great Work Of Team: All members of our water damage restoration Sydney team working with us are great at coordination and providing the best service to clients.
Local Team: We have local team members, that's why the professionals will be available to serve clients anytime and quickly.
Budget Friendly: Our water damage restoration company is perfect at providing high-quality services within budget-friendly amounts.
Our Flood Damage Remediation Process And Services In Sydney
Our professionals work perfectly to restore your flooded property to the optimum level. We have all the team members professionally trained to provide specific water damage restoration Sydney services.
Inspection: The experts will foremost do an inspection and identify the problems, cleaning required and damages that happened on the property.
Water Extraction: Then the professionals will extract water from the property with the help of advanced tools and methods.
Revive And Restore: Once the water is removed from your property, then they will revive and repair all the damages caused by the flood.
Disinfection And Drying: At last, we do sanitization and deodorization, which are going to help in killing bacteria and removing bad odour. Then, we dry the area properly and make your home ready for living without any health concerns.
Avail Of Expert Flood Saviours In 30 Minutes
Floods can happen anytime. Also, it is not easy to hold such disastrous happenings. The properties might collapse, ruin the property appearance, damage all the things and cause other damages. That is why Revive Water Damage Restoration has a team in Sydney that will be available at your doorstep in just 30 minutes to assist you. Our professionals will tackle all the problems and do complete flood damage restoration.
FAQs – Water Damage Restoration Sydney
The cost of water damage restoration services in Sydney starts from $120. The exact amount will be stated according to the repairs and restoration required for damages and cleaning on floors and everywhere.
Individuals can contact our water damage restoration team through the contact number easily and quickly. We are available 24/7 on call to assist you.
Yes, it is worth hiring professional water damage restoration services. You will get the flood damage restoration done quickly and perfectly.
Water Damage Restoration Sydney
Call us at 0488 851 508 Water Damage Restoration Sydney
Location: Sydney, NSW, 2000, Australia