Hire Our Professionals For Adelaide's Water Damage Restoration Services
Revive Water Damage Restoration is one of the largest providers of water damage restoration services for every new and old client in Adelaide. Our water damage restoration Adelaide team is continuing to grow and every reasonable concern of our client. Moreover, with the expansion of our services to carpet repair and restoration, we made it big in the industry. We receive bookings from senior care, private homes, malls, apartments, etc.
With our Water Damage Restoration Company in Adelaide, you as a multi-family can skip the hassle of self-cleaning the whole place. We allow no risk during flood restoration services until the process reaches its end and shows you effective results. So, keep in touch with us by calling us at (0488 851 508) to know how we charge for quarterly, half-yearly and yearly services. Call us today!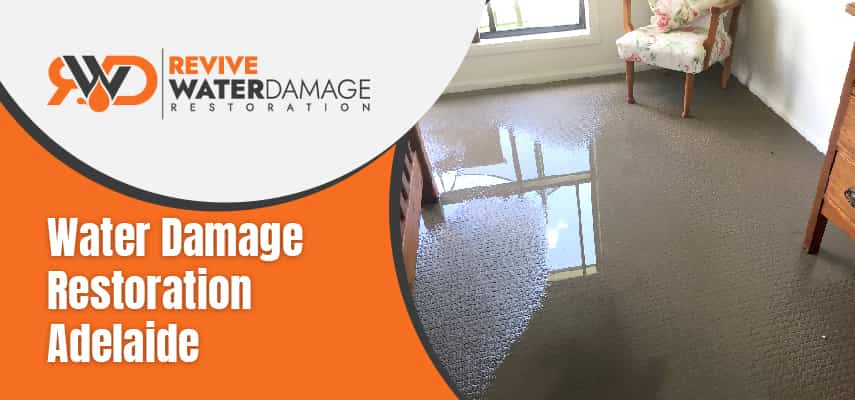 See The Damages What Damages Flooded Water Cause
Yes, at any time and any day, water damages happen but if you do not notice their signs, the situation gets out of your hands. Do you have not much idea about what damage water flooding is responsible for if it gets out of control for your property? Then we would like to give you a clear idea of what damages water flooding causes.
Damages everything from clothing, upholstery, toys, carpets and many more belongings
Creates unhygienic conditions and puts your life at risk of exposing to various diseases
Stagnant water for long periods leads to unpleasant odours that don't go even with air fresheners
Water gets into electric outlets and causes dangerous accidents
Mould grows from excess moisture and this in turn triggers allergies and other respiratory problems
Damage to floors and walls can be very irreparable sometimes
Depend On Our Adelaide Professionals To Get Maximum Benefits
Professionals like us, a water damage restoration Adelaide team, are something that helps you even in unexpected and irredeemable situations. So, once your place is flooded with water from the front and back of your indoors, count on us for the best assistance in Adelaide. Because you get a wide range of benefits from us like the ones listed below:
Punctuality is maintained and taken as a No.1 priority
Full-fledged tools and all the necessary equipment are of the latest versions
Costs for water damage restoration Adelaide service goes easy on your pockets
Free quotes and advice regarding any water damage restoration and repair services
Despite recruiting well-experienced experts, we train them about our discoveries
Have solutions for mould-free, stain-free and odour-free environments.
We Offer Multiple Water Damage Restoration Adelaide Services
Not one service suffices different kinds of issues when a carpet becomes a victim of multiple water damages. However, to restore your carpet how it looked as a new one, our water damage restoration Adelaide team does everything in our hands and knowledge. So, be worry-free to avail any of our multiple flood restoration services near you.
Wet Carpet Cleaning Adelaide
Are you not finding a DIY trick or tip working for the wet carpet you have at your commercial property in Adelaide but you want to do something about it? Why not contact our water damage restoration Adelaide team? Yes, our team. They are best at doing wet carpet cleaning. All you have to do to book us is to lift your phone to do a call booking or fill out the form.
If you want a wet area drying service in the next hours, you can avail of our emergency or same-day flood restoration services in Adelaide. We work as full-time professionals for a service such as wet area drying for carpets and hence offer immediately. True to our word, we reach your place within 24 hours of slot bookings to provide on-site carpet wet area drying.
Flood Water Extraction Adelaide
It is not an easy task to extract complete water from your Adelaide property once water gets into the walls, floors and other belongings. But this is only when a person does not have enough experience and is not skilled with water extractors. However, we are skilled, experienced, and trained and have many years of experience in just flood water extraction service. So, hire us!
Flooded Floor Clean-Up Adelaide
When a flood fills your floors from every side into every room, it gets hard on you how to do the water damage clean up on your own. But our professional clean-up doesn't want to put you in this situation and take it into our own hands. We complete the flooded floor clean-up service for your carpet in no time that you keep wondering how quickly we did it.
Carpet Damage Restoration Adelaide
Your carpet cannot be saved anymore if it gets into 48 hours period as the longer the period it stays in the water, the quicker the damage happens carpet experiences. So, hurry up to appoint us for carpet repair and restoration services in Adelaide homes, offices, malls, factories, nursing homes, etc. This way your carpet quickly gets to breathe clean and fresh air!
Carpet Deodorization And Sanitization
Cleaning and repairing all the necessities of the carpet is not sufficient for them and thus we provide deodorization and sanitisation services as well. So, no way you are going to be dissatisfied with just water damage mould clean up right? If yes, we are the best water removal company that can get your carpet to be more satisfied with our deodorizers and sanitisers.
Any Kind Of Water Damage Restoration Solutions Are Available At Out Adelaide Firm
We develop your property with the right solutions related to water damage repair that has a precursor of mould cleanup and stain removal. Because we thrive on a multi-faceted approach and thus are specialised in many areas of the water damage restoration Adelaide services. Along with expertise in the industry, we have years of experience in helping both public and private places.
With scope in the industry, our water damage restoration company recruits new professionals whenever there is a need for them. Therefore, the more experts intake, the more knowledge, skills and training are put together to offer all kinds of solutions. Moreover, whether it is for water damage restoration of a complete property or carpet repair and restoration alone, we do everything. Contact us immediately!
Why Choose Us For Water Damage Restoration Adelaide Service?
If you want a water damage restoration company in Adelaide that charges you reasonably, for any minute bookings, get in touch with us. We also have detectors that help in acknowledging to what extent the dampness is on walls. Also, with us by your side, you get to avail the best flood restoration services you can look for in Adelaide
Timely Manner Service: For any town and suburb in Adelaide, we assure to provide convenient manner service. And in no time, your floors, walls, carpet and upholstery regain their appearance and health as new ones.
Non-Toxic Solutions: Whatever solutions we use for water damage restoration Adelaide services are non-toxic and eco-friendly solutions. Despite having no harsh chemicals in our solutions, the results they give are desirable and concern-meeting ones.
Everyday Bookings: Be it a weekday or a weekend, when it comes to service bookings, we take them on every day. From one-on-one water damage repair service to multiple services, we take relentless bookings for everything.
Skilled Experts: Every Adelaide team of experts we recruit is skilled with different specialisations. And hence, be it a clean-up, water removal or any kind of repair service, we have specifically skilled experts.
Licensed Company: We are a licensed company in Adelaide that has both ventures and connections in the industry. As a licensed company, we also know which other manufacturers in this field are licensed and accredited.
An Assurance-Giving Adelaide Firm For Water Remediation Processes And Services
Serving Adelaide and many more of its regions, we became a trusted partner for people in the city for water remediation processes and services. Once you take our assistance, your property would quickly come out of water damage and its after-effects. While keeping you informed, our water damage restoration Adelaide team takes up all the necessary processes and services for a germ-free area.
Our approach to water damage restoration speaks for itself whether it can make your place in an hour or more than that. However, we would inform you about the timeline it takes to complete the flood restoration services and processes. Thus, no matter the job we take in Adelaide, we handle everything from the ground up, from start to finish. So, give us a chance to restore your property's glory!
We Save Every Place In Adelaide Within 30 Minutes Of the Appointment
Do our water damage restoration Adelaide team complete the work in 30 minutes even if you book us for same-day service? Yes, we do. Because we have excellent skills, training and immense experience. With these qualities embedded in us, we take appointments even on weekends but serve you on weekdays. However, we complete the water damage repair services in just 30 minutes and that is a given.
If you do not want to stay on the site for water removal or further follow-ups, you can leave the site in our hands to find a relaxing place. Your Adelaide property is in safe hands and everything will be said and done in the next 30 minutes after we reach your place. We have the quickest adaptability and hence despite your location being new to us, we get used to it and do a perfect job with everything.
FAQs – Water Damage Restoration Adelaide
To deal with a flooded carpet that is facing water damage, you need to follow a few essential tips like the following:
Remove as much water as possible
Dry out the carpet with fans or dehumidifiers
Steam clean your carpet
Clean floors and furniture
Hire professional company
There are many don'ts you need to know about water damage. But we would like to suggest a few important don'ts of water damage. Some of them are to not:
Use a vacuum cleaner and remove the water
Turn on electrical appliances
Stand in sagging ceiling rooms.
Yes, we do. In fact, not just for water damage mould clean up, we dispatch our certified and licensed professional for every service in Adelaide premises. Moreover, all of our certified professionals are locals!
Water Damage Restoration Adelaide
Call us at 0488 851 508 Water Damage Restoration Adelaide
Location: Adelaide, SA, 5000, Australia