Excellent Water Damage Restoration Melbourne Service To Revive Your Flooded Property!
Address your flood-related and water-damage problems to us today and get them resolved appropriately. Call us for the water damage restoration Melbourne service experts now and get the cleaning and damage repaired with efficiency. If your home or commercial property has been flooded for any reason, we will give you perfect solutions to all the problems and flood-related damages. It's very immediate to take urgent action for the flood and water damage restoration via the experts at Revive Water Damage Restoration. So no need to struggle with a flood problem, make a call to (0488 851 508) and contact us for booking an appointment for water damage clean up and restoration within a given time.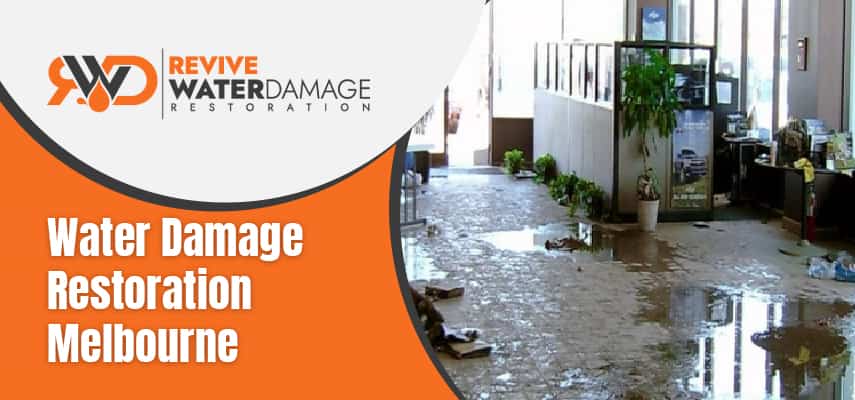 Flood Damages Too Many Things On Premises
Floods can damage too many things on your property. We are mentioning some things here.
The very first thing attacked by flood is your floor and walls of the property. The surface area and wall area will come in contact with bacteria and infectious germs.
Carpets, curtains, and mattresses. All things will get in touch with bacteria and mud, and also get dirty and unhygienic.
Mould and mildew will generate on the floors, things, and furniture which is unhealthy for the individuals and pets living in your home.
Bad odour is also a kind of damage.
Water Damage Restoration In Melbourne – Know The Kinds Of Services
We provide all water damage restoration Melbourne services. The services we offer are:
Wet Carpet Cleaning Melbourne: The flood water will completely wet carpets and infuse bacteria and other harmful components into them. Our professionals will entirely clean them and do wet carpet cleaning.
Wet Area Drying Melbourne: The flooded area gets completely wet and moist, which is bad for the surroundings and things. That is why you must get the wet area drying service from professionals. We assist in wet area drying.
Flood Water Extraction Melbourne: We have advanced tools and equipment, which help to extract flood water from your property appropriately.
Flooded Floor Clean-Up Melbourne: The flooded floor has contaminants, bacteria, and allergic nasty germs, which can be cleaned and removed with our professional assistance.
Carpet Damage Restoration: Due to the flood; the carpet will get damaged and completely dirty. Our experts know how to do the cleaning of carpets from the depth and repair the damages as well.
Carpet Deodorization and Sanitization: The flood water leaves a smell on the carpets. We do carpet deodorization and sanitization for healthy cleaning and removal of bad odours.
Our Flood Damage Restoration Service In Melbourne Will Serve In All Conditions
No matter how bad the flood-caused situation is, our professional water damage restoration team will clean and restore everything as much as possible. These experts will clean the floor, clean and restore the carpet, mattress, and curtains also. You can get cleaning from the depth and get the damages repaired with the help of our professionals without any problem. You can get the cleaning and everything possible done with the help of our professionals in all conditions.
Broken Pipes
Poor Drainage
Clogged Rain Gutters
Malfunctioning Appliances
Damaged Foundation
The Weather
Why Is Choosing Our Water Damage Restoration Service The Best In Melbourne?
Revive Water Damage Restoration is the best company for restoring flood damage situations. We are stating some reasons which prove that we are the best water damage restoration company in Melbourne.
Certified Team Members: All the team members working with us are great at their job because each of them is certified by IICRC and trained for the specific job also.
Helpful In Emergency: You can connect with us anytime because we serve our clients in their emergencies also.
Local Team Works For Us: We have hired local team members in the company, who are based in Melbourne and its suburbs. You can book us anytime and the professionals will be available.
Cooperative Team: The professionals are not only good with clients, but they are also great with each other to coordinate well while providing excellent water damage repair solutions to customers.
Pocket-Friendly Budget: We understand that you are worried about the expenses charged by the best water removal company. Don't worry by the way, because we charge a righteous and pocket-friendly amount.
Know About Flood Damage Restoration Process To Deal With The Problem
Inspection: First, the professionals will inspect the property. Inspection is important to understand, how the flood damaged the property, what sort of damages happened, how much cleaning is required, what tools & equipment to use, and other things to analyze how to get ready with the restoration plan.
Water extraction: Once the inspection is done by professionals; they will start with flood water extraction from the property. They will use hi-tech tools and machines to extract flood water from the property.
Cleaning and restoration: When the flood water is extracted; now is the moment to start cleaning and doing damage repair for the furniture, mattress, curtains, carpets, and floors. The professionals will do sanitizing and deodorizing to remove the smell and create healthy surroundings.
Post-inspection: The treatment plan is done, now post-inspection is important to check with experts to check whether something is left or not.
Get Flood Damage Saviours In Melbourne Within 30 Minutes – Contact Us Now
Floods can happen for many reasons. It can be hard sometimes to deal with the damages caused by floods. That's why we have professionals helping people in Melbourne. Our water damage restoration Melbourne experts are trusted by all. We have proven our worth in flood damage restoration and cleaning tasks. Now you can get the water damage restoration services done promptly.
All members working in our company are from Melbourne, which means they will be available at the doorstep in minimal to minimal time. If flood or water has damaged too many things in your property and you are looking for solutions, then call the flood saviours from Revive Water Damage Restoration. The experts will knock on your door in a minimum of 30 minutes and start working on the process ASAP.
FAQs – Water Damage Restoration Melbourne
The professional service providers will first inspect the property and understand the problems, cleaning required, and everything to make a quote for clients. The cost of the service depends upon the damages that occurred on the property. The average prices paid by customers are $250-$600.
The professionals will be at your doorstep within a minimum of 30 minutes to inspect and check on the property damage and mess happening due to the flood. On average, it takes 4-6 hours to restore a flooded home.
Our team members are friendly and cooperative with the customers, and they will suggest righteous things for future prevention.
Water Damage Restoration Melbourne
Call us at 0488 851 508 Water Damage Restoration Melbourne
Location: Melbourne, VIC, 3000, Australia