Flooded House Can Be Saved: Call Us For Professional Water Damage Restoration Canberra Service!
Water damage restoration and cleanup are not easier tasks at all. You can call Revive Water Damage Restoration for professional assistance right now. With our Water Damage Restoration Canberra service by your side, you can get rid of all the mess and flood water. Our team members have conquered the service offering methods, so they can work in both residential and commercial properties. You do not need to worry about anything when dealing with us.
Moreover, from flood water damage restoration to fixing other problems related to water damage our service will deal with all the problems literally. If you want to book an appointment for the service, then you can dial (0488 851 508) to connect and take suggestions & services. So don't wait at all, we have perfect services for you. Our trained professionals will manage water damage efficiently.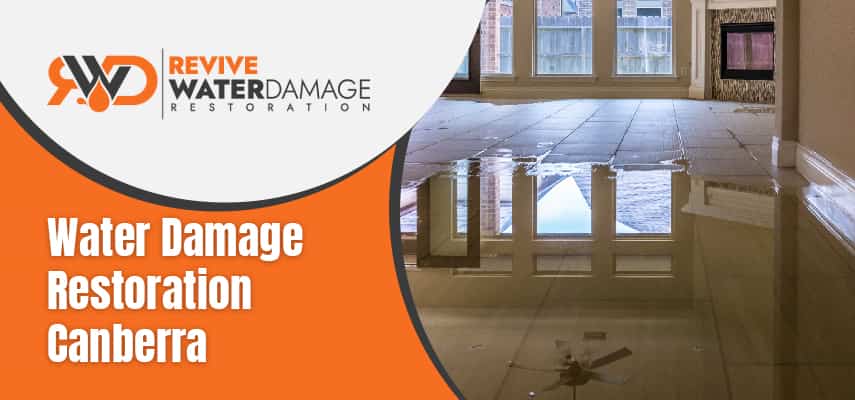 How Will Flood Damage Many Things On Your Property?
There are several damages the flood causes on your property. We will tell you here what sort of damages will happen to your property by the flood.
The flood water will first damage the floors and walls. The floors will get touched with bacteria, insects, pests and dirt – which is going to ruin all of them.
Floods will affect carpets, curtains, mattresses, wooden furniture and all other things in your home.
They can create moulds and mildew all over the furniture, floors, walls and everywhere.
The flood water is contaminated and filled with bacteria, which is going to leave a bad smell and odour behind.
Why Trust On Professional For Water Damage Restoration Services?
The professional water damage restoration service is great at dealing with all your flood problems. It is the right decision to not take the challenge and call for the expert's assistance. This brings many benefits.
The professionals can catch up with the problems appropriately and will get done with the problems very quickly.
The experts will clean and repair carpets, curtains, and mattresses and do everything possible to make things look revived again.
The professionals will remove moulds, mildew, bacteria, germs and pests from your property to make it a healthy living again.
Sanitization and deodorization processes done by experts can remove deep stains and smells.
Different Kinds Of Water Damage Restoration Services
There are different services that professionals believe to proffer when the flood attacks your property.
Wet Carpet Cleaning: Flood water will wet the carpet and fill the carpet with dirt, mud, bacteria and germs. Our professionals will do carpet cleaning appropriately.
Wet Area Drying: When the entire house is filled with flood water and wet, you can ask our professionals to manage the situation, and they will use tools and advanced machinery to dry the area.
Flood Water Extractions: The professionals will use advanced machinery to extract the flood water from the property.
Flooded Floor Clean-Up: The experts will clean the entire flooded area with the best machines, tools and equipment to make it healthy.
Carpet Damage Restoration: The experts will not only clean the carpets but restore all the damages by doing perfect repairs.
Carpet Deodorization and Sanitization: We do deodorization and sanitization on carpets to keep them healthy, hygienic and odour-free.
Get Help In All Flooded Home Conditions: We Are Experts
The flood damages a lot and this is going to create so many problems. Well, that is not a matter of concern anymore in Canberra because our professionals are capable of dealing with them all through the best possible advanced tools and equipment. Our expert water damage restoration service will deal with all the problems and even resolve them completely. So you don't have to worry about anything, because here we will do the best possible flood damage restoration services to the customers in all conditions, no matter how hard it is.
Broken Pipes
Poor Drainage
Clogged Rain Gutters
Malfunctioning Appliances
Damaged Foundation
The Bad Weather
Why Choose Our Flood Damage Restoration Services In Canberra?
Undeniably, you do need some reasons for choosing us. Here we are stating some reasons why you could choose us:
Great Team Work: Our team members are used to listening to each other to cooperate and bring perfect results.
Certified Flood Restoration Service: All members working with us are certified under IICRC and from other training courses for the services.
Available In Emergency: Flood is a kind of sudden happening, for which our professionals will be available in an emergency.
Affordable Budget: Get the best service at an affordable budget guaranteed with the use of advanced tools and equipment.
Local Team Working: All the members working in our company are based locals, which means they will be available whenever you will ask them.
Our Flood Damage Restoration Process and Services
We are the best water damage restoration company, which forwards a required professional process to do the service:
Inspection is the very first thing we prefer to do. It is to analyze what situations and conditions happened on the property.
After this, we are believed to do flood water extraction. It is really important to do the flood water extraction to clean the floors and get on with other tasks properly.
Now the experts will start cleaning up the mess and repair all the damages happening to the property.
At last, they will be doing sanitization and deodorization for the bad odour removal process.
We Are The Flood Saviours Available In 30 Minutes
We have many experts and professionals working with us for Water Damage Restoration. All of the team members and experts are from the local city, which states that the assistance will be available in no time. If you have struggled with an emergency related to water damage, immediately call us. We have 24*7 hours customer support system for clients. Make a call to us and we are available for you in emergencies as well. We try our best to be available at the client's doorstep within a minimum of 30 minutes.
FAQs -Water Damage Restoration Canberra
The professionals will be cleaning and restoration of everything affected by the flood.
Well, here we would like to say "WAIT". Let the experts first inspect your property and understand what can be done, what are the damages and other things to finalize the cost. You can expect $500-$1000.
Yes, the professionals will be available in emergencies as well. They will assist you whenever you need them because all the members of our team are local experts.
Water Damage Restoration Canberra
Call us at 0488 851 508 Water Damage Restoration Canberra
Location: Canberra, Australian Capital Territory, 2601, Australia