Local Water Damage Restoration Team In Brisbane To Save Your Flooded House!
Floods can damage everything in your home, but there is no need to stress when our Water Damage Restoration Brisbane team is here to help. Here at Revive Water Damage Restoration, we understand that flood damage can be a big emotional and economical loss. However, our experts will take care of and manage the damages with the help of advanced techniques and methods. You should connect with us to apply our vast years of experience in the industry for saving your home. Our professionals understand how difficult it is for individuals to cope with the damages that have happened. That is why the professionals will be at your doorstep and take steps ASAP to get the situation rectified.
Moreover, we restore some things on priority like internal damages caused by water is treated as soon as possible. You should immediately call us for water damage cleanup and get the damages restored on the same day. You can call us at (0488 851 508) to discuss your situation – this must be your approach to restore your flooded house quickly.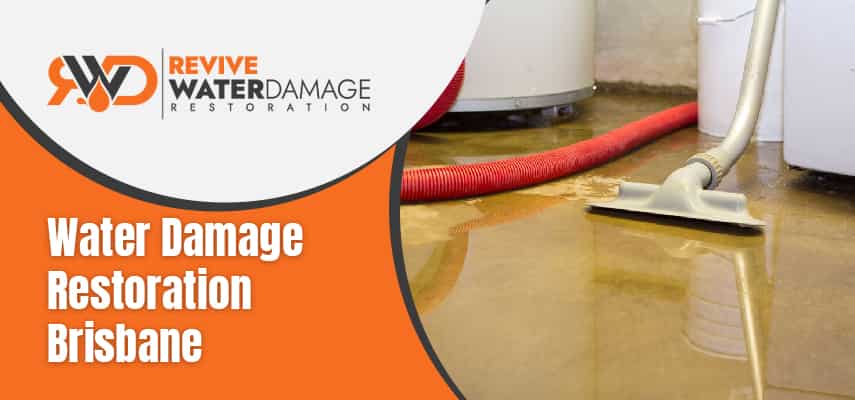 How Can Flood Damage Be A Serious Issue?
Floods bring many issues. They can damage wooden furniture, electrical wiring, home appliances, carpets, mattresses, curtains, etc. Also, the walls and floor will get dirty and mud will bring too many bacteria. The moisture in your property lets moulds and mildew generate which leads to several health hazards. Flood is not an easy thing to tackle; because this will damage so many things far beyond imagination. Moreover, the flood water accumulated in the property will lead to bad odours, which is hard to resist. These can also be prone to create health issues. So flood damage can be a serious issue.
Flooding Is An Urgent Problem To Restore – Trust In Experts For Water Damage Restoration
If you face a flood at any moment of your life, then the best and foremost step one should take is to call for professional help. Yes, you must ask a water damage restoration company like us to come and inspect the damage and provide the treatments required. There are several reasons why hiring professionals is most required in these conditions.
The expert flood restoration services are perfect for testing and repairing all the damages caused due to flooding.
Plus, they are quick, efficient, trained, and skilled, and use advanced tools and equipment.
They are ready for mould and mildew clean-up to make the property relive again.
The professionals will treat carpets, mattresses, curtains, furniture, and everything.
Moreover, they will sanitize and deodorise for health and hygiene factors.
Water Damage Restoration Services By Our Experts In Brisbane
There are different services incurred when it comes to water damage restoration services. We provide these all services for helping our customers.
Wet Carpet Cleaning Brisbane – Due to flood water, the carpet gets wet and dirty. Our professionals use hi-tech techniques and tools to extract dirty flood water from the carpet and clean and restore them properly.
Wet Area Drying Brisbane – The flooded area gets completely dirty and wet in the home, which can generate moulds also. Our professionals will carry forward a session for wet area drying.
Flood Water Extraction Brisbane – Flood water is contaminated and causes so many infections & allergies. Therefore, our professionals will come and finish the water removal first.
Flooded Floor Clean-Up Brisbane – The floor will get dirty, and mud will accumulate and contaminate completely. Here the experts will do a flooded floor clean-up to make it look fine.
Carpet Damage Restoration Brisbane – The carpet gets damaged due to a flood, and here the professionals will do carpet damage restoration in Brisbane to make it look fine again.
Carpet Deodorization And Sanitizing Brisbane – The flood water leaves bad odours behind, and our experts will do deodorization and sanitization to keep the surroundings healthy & hygienic and remove bad odours as well.
Receive Flood Damage Restoration Service In Brisbane In All Conditions
Floods can damage everything in your home: furniture, curtains, mattresses, carpets, floors, walls, and other things. It does not matter what happened inside the property due to the flood, the responsibility of our professional water damage restoration service is to repair all the damages. We will do carpet clean up, carpet restoration, manage the curtains, clean the floor & walls, clean the furniture and revive them. Moreover, our experts can clean up moulds. We will try to give all the services and make your property livable once again. Let us know the situations and conditions, and we will try our best to deal with them all.
Broken Pipes
Poor Drainage
Clogged Rain Gutters
Malfunctioning Appliances
Damaged Foundation
The Weather
Flood Remediation Process Followed By Our Team In Brisbane
The professionals and experts working for our Water Damage Restoration Company are trained and skilled in the specialized job. They follow a specific process to get the service done.
Inspection: Foremost the professionals will get done with the inspection task. They want to know the situations and conditions caused by the flood. They know what treatment and cleaning processes are required.
Extract Flood Water: Now it's time to extract flood water from the property. The professionals will use some techniques and advanced tools to extract all flood water from the property.
Clean Up And Repair: Once the flood water has been extracted, then clean up and repair is required. The professionals will repair carpets, curtains, mattresses, and other things.
Sanitization And Deodorization: After all the cleaning and repairing are done, the experts will now follow up the sanitization and deodorization process for making the surroundings healthy and odour-free.
Drying: The most important and last step is the proper drying of the entire area and things cleaned after flooding.
Why Our Flood And Water Damage Restoration Service Is Best For All In Brisbane?
Revive Water Damage Restoration can give you multiple reasons to prove why we are the best at providing water damage restoration in Brisbane. Some reasons are here.
Certified Flood Damage Experts: The team members working with us are prepared to deal with all the problems because everyone is certified and trained for the specific job.
Available For Emergency: Our experts and professionals are available to provide water damage restoration service in an emergency and are available in one call.
Good Team Work: The team members here are cooperative with each other and provide the best quality water damage restoration service with great teamwork support.
Local Team Available: The experts in our company are based locally, which means they are available for the service anytime.
Affordable Cost: The company has been working in the industry for the last 20+ years, and provides excellent service at an affordable cost.
We Are Flood Damage Saviours – Get Water Damage Restoration Service In Brisbane Within 30 Minutes
All the team members working with our company are based in Brisbane city. We have hired all the local experts so that whenever the flood emergency comes in they will be available within 30 minutes. Customer support is available 24*7, so call us and ask if you have doubts anytime about your flood damage restoration.
FAQs – Water Damage Restoration Brisbane
You can contact our professional water damage restoration Brisbane team via the toll-free number or the other contact details mentioned.
The professional water damage restoration Brisbane service will take time according to the damages and mess that happened in the property. In most cases, it takes around 6-8 hours.
Yes, we are available on weekends. We are available for both home and commercial properties.
Water Damage Restoration Brisbane
Call us at 0488 851 508 Water Damage Restoration Brisbane
Location: Brisbane, Queensland, 4000, Australia