Contact Us For Efficient & Effective Water Damage Restoration Perth Services
There are many reasons why water gets into your home and a few of them are broken hose of the dishwasher, overflow of washing machine, leaking pipes, etc. And because of one of the above-mentioned reasons, your place is affected by water everywhere? Then get in touch with Revive Water Damage Restoration which is based and operated in Perth. We restore every damage that is caused by water.
We specialise in water damage restoration Perth services and indirectly help you and your property. Also, we serve all the domestic clients from residential as well as commercial premises of Perth using the latest technology and innovative ideas. We kept expanding ourselves and our company and started offering carpet repair and restoration services. So, contact us for water damage clean up or carpet repair or both by calling (0488 851 508).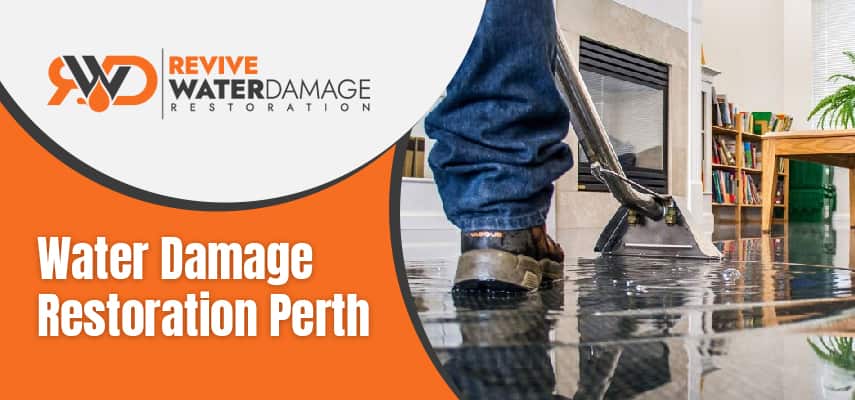 What All Affects You See Because Of Water Damage?
Water damage commonly caused are broken pipes, ruptured water lines, failing sump pumps, ice dams on your roof, leaking appliances, etc. And because of these causes, they damage many of the Perth properties with most of the areas being indoors. Damages your home might face because of water damage are as the following:
Financial losses rapidly increase even before you analyse them
Cause major effects on social, economic and psychological activities
If you want to sell your property, water damage decrease the value of it
Unusual odours from an excess of dampness on both walls and floors
Completely damage things like wall hangings, albums, furniture, rugs, toys and so on
There are also short-term damages such as unhygienic conditions and electrical damages.
Advantages You Gain By Hiring Our Professional Water Damage Restoration Perth Team
If you notice any of the damages mentioned above because of water damage, take them as a sign to contact our professionals right away. Because oftentimes, it is best if you go with professional water damage restoration Perth teams rather than DIYs. If you want to know what advantages you gain by hiring our professionals, here they are:
Floors, walls, belongings and many more gets attention when water removal will be done
Special treatments for carpet is available if you book us for carpet repair and restoration services
Keeping your thoughts and concerns in mind, we use the best technology
Immediate response be it for emergency water damage repair or any regular service
24/7/365 day bookings are available for every local of Perth
You can avail of an obligation-free quote even on call or by filling out the form.
Do You Want To Know The List Of Our Water Damage Restoration Services? Here They Are
When you are dealing with water damage, we promise to be by your side by providing you with the no.1 water damage restoration Perth services. We give you high-class client services and strive to do the same for every client who comes to us from Perth and its areas. This way we provide satisfactory carpet repair and restoration services too and give your carpet peace.
Wet Carpet Cleaning Perth
To keep your carpets as elegant as it is when an individual purchases them, you can avail of our wet carpet cleaning service if your carpet is wet. You can even contact us for 30 minutes or so of wet carpet cleaning by calling our water damage restoration Perth team. Also, we respond to you immediately after we receive a request for this service.
Oftentimes, you let the wet carpet behind to let the carpet dry on its own but this would create further problems for your carpet in future. Therefore, get in touch with us for a wet area drying service for instant and thorough drying. In a circular motion, we use our advanced equipment like dehumidifiers and air movers to make the wet area drying possible.
Flood Water Extraction Perth
Water leaves no belongings on the floor to damage and one such important one is the carpet. Thus, we provide our effective and best flood water extraction service for cases such as these. We have special extractors that work wonderfully and show positive results.
Flooded Floor Clean-Up Perth
If cleaned carpets get back to the place they belong to, they in turn get moulded, stained and a victim of odours. Hence, we also provide flooded floor water damage clean up to completely avoid your carpet from this occurrence. For all flooded floors, our water damage restoration Perth services are exclusively available.
Carpet Damage Restoration Perth
Do you not want your carpets to get further damaged from the already water-damaged ones? Here is your chance to show that you care for your carpet by availing of our carpet repair and restoration service. We are always on the stand to take your bookings and in turn, provide on-site satisfactory services.
Carpet Deodorization And Sanitization
For carpets, we offer sanitization and deodorization services too once cleaning and repairs are done to get them back to perfect condition. Here, we also make sure both of these services have the involvement of only fabric-protecting agents. With sanitization and deodorization, your carpet respectively becomes allergen-free and pleasant-smelling.
We Have Solutions For Many Of The Water Damage After Effects
As you can see, water effects are infrastructure damage and they also cause other effects like electric damage, mould growth, etc. Therefore, we came up with different water damage restoration Perth solutions for different issues. But as a basic, our water damage restoration company inspects the property, both indoors and outdoors; especially those areas that show more water damage.
After the once-over inspection, we see the problem your property is facing and certainly resolve it with the best solution at hand. In fact, for any water damage repair we are tackling, we instead customise a method accordingly instead of following a standard one. Moreover, all of our water damage restoration solutions are available throughout Perth at the same prices.
How Are We The Best Choice For Water Damage Restoration In Perth?
We have our very own specialities when it comes to water damage restoration Perth services. From free inspections to live call bookings, we avail everything via calls or online form filling. Several reasons claim us as the best choice and a few of them are as follows:
Affordable Charges: You book us during the day or late at night, our charges are the same for any service and they are reasonable. Also, we charge you no extra prices like travelling expenses we have and for tools we carry.
Available For Same-Day Service: Yes, for every water damage restoration service we provide, the offer for same-day service is also open. If it is an appointment for same-day service, we accept your slot bookings even on public offs.
Local Teams Of Perth: All those experts that come to your place for water removal, clean-up and repair are locals of Perth. So, they know what reasons in Perth cause water damage in residential and commercial properties.
Safe And Green Solutions: The solutions we use for every water damage mould clean-up are extremely safe and green. So, you can consider our green solutions as kid-friendly, pet-friendly and eco-friendly.
Advanced Equipment: To tackle different types of water damage, we carry along a variety of advanced equipment. Our advanced equipment is also often used to do all-in-one flood restoration services in Perth properties.
Do You Want Water Remediation Processes And Services In Perth? Call Us!
One of our water remediation processes for water damage restoration in Perth service is nothing but water extraction. We first check to know the causes of water damage, so that we can customise the correct process and serve you. If water damage at your place is because of man-made causes, we treat them differently unlike natural disasters. However, our remediation services are available for clean, grey and black water.
For some water damage repair, we use some equipment and for other water damage problems, we use others. But all of our equipment used for water remediation processes and services belongs to the best and most advanced technology. Moreover, our Perth solutions are available even for carpet repair and restoration services. So, find us in Perth if you are in search of all-at-one-point services!
Here Is Team That Reaches Your Place To Give Service In 30 Minutes- For All Perth Locations
As we understand the desperate need of our clients for water damagerestoration services, we provide any of the chosen services within 30 minutes. We have a noteworthy credit that made us the best water removal company in Perth for water damage. Also, in these 30 minutes only, we do a water level estimation that is damaging your property.
For a prompt but effective at the same time water damage restoration Perth service, we use the latest extractors and on-trend air dryers. How are we so sure that we can complete the water removal and complete the process in just 30 minutes? Because we believe in our skills, experience, knowledge, experts, professionalism and punctuality. Hence, contact us first if you have water damage problems.
FAQs – Water Damage Restoration Perth
We, as the best water removal company in Perth, know how important it is to avail a restoration process to an affected property. We follow no such thing as a standard process for water damage restoration. But one of our famous processes is here.
Do a thorough inspection to detect the exact level of moisture
Extract the water with a follow-up wet area drying
Water damage repair is done by patching drywalls, replacing painting and installing flooring
Check to find any electrical hazards and repair its nearby areas.
Yes, you can. Firstly, our team of experts are licensed by Australian governing bodies and certified by the no.1 institution in the country. As one of the trust factors, our experts are locals of Perth too. So, trust to hire us right this moment!
Generally, it takes nearly 5 to 6 hours for a water damage restoration service to complete. However, it varies depending on the damage and situation your property is in. So, contact us to know more details about this.
Water Damage Restoration Perth
Call us at 0488 851 508 Water Damage Restoration Perth
Location: Perth, WA, 6000, Australia